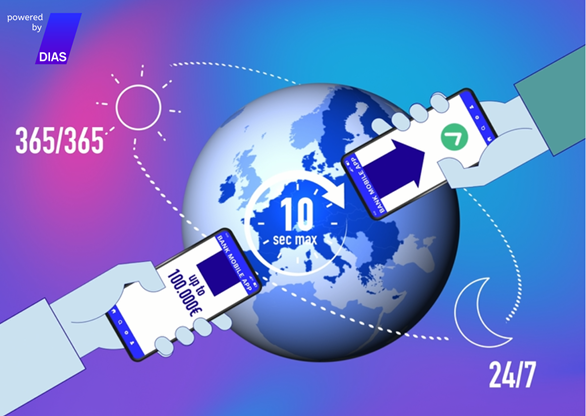 The 7th Payments 3600 conference powered by DIAS, which was held by Boussias, on Thursday, April 27, 2023, at the Athens Concert Hall, and in which DIAS S.A. participated for the first time as a main sponsor, was a complete success.
The interest of the audience, full of professionals from the financial services, retail, and technology industries regarding payments, was strong, which is proven by the fact that the number of participants at this year's event was double compared to the one in 2022.
The dynamics, perspectives, context, and challenges for the further adoption and use of instant payments in Greece were discussed during the conference titled "Instant Payments Disruptive Impact - Escalating new-gen Payments Landscape".
Ms. Christina Papakonstantinou, Deputy Governor of the Bank of Greece (BoG) and Chairman of the Board of Directors of DIAS SA stated that in Greece there was a significant increase in instant payments, as recorded in March 2023, during which such transactions more than doubled compared to the corresponding period last year, however, they remain at 8.5% of all credit transfers, a percentage lower than the European average.
She further stressed that the full adoption of instant payments by the Greek market is an immediate priority of the Bank of Greece, pointing out that if instant payments do not develop as rapidly and intensely as their wide demand from the public, then other entities, e.g. Big Tech companies, will find a way to fill the gap that will arise.
The adoption of IRIS e-commerce by the domestic market is necessary.
The CEO of DIAS S.A., Ms. Stavroula Kampouridou, characterized payments as the most dynamic sector of FinTech. "According to the data of a recent study, the revenue of the global payments industry reached $ 2.1 trillion worldwide, in 2021, at a time when the revenue of the pharma industry was $ 1.4 trillion. It is estimated that in 2026 the revenue of the global payments industry will soar to $ 3.3 trillion", noted Ms. Kampouridou.
She also emphasized that DIAS's interest lies in Account-to-Account (A2A) payments, which recorded double-digit growth rates at an international level and are driven by the technological developments connected to instant payments. It seems that now is the moment for Greece to widely adopt the A2A solution as a commonly accepted alternative means of payment for merchants who, as stated and concluded from various panel discussions during the conference, seem to be seeking it and have a positive stance.
The CEO of DIAS S.A. referred extensively to the evolution of the growth and degree of acceptance of IRIS and its three sub-products (IRIS Person to Person for transferring money between friends, IRIS Person to Business for paying professionals and small businesses, both instantly, as well as IRIS e-commerce for paying businesses in eShops and potentially in physical stores), stressing the need for financial institutions, whose mobile banking apps already have the IRIS functionality, to take advantage of the facts and figures, as well as of the proven acceptance of the IRIS brand name (which has more than 1.6 million users) "building" a similar dynamic for IRIS e-commerce as well, as its share of use in e-commerce is below 1%.
Single pan-European Wallet for instant payments vs "Roaming" between European payment schemes 
The expressed position of the European Payment Initiative (EPI) for the creation of a single European wallet of instant payments, occupied a significant part of the Payments 3600 conference with the international speakers Mr. Etienne Goosse, Former Director General of the European Payments Council (EPC) and Mr. Holger Neuhaus, Head of Market Innovation & Integration at the European Central Bank's (ECB) DG Market Infrastructure and Payments, welcoming the development of a single pan-European wallet for instant payments that will act as a "shield" against similar successful initiatives coming from Asia and the US.
For his part, Dr. Christian Pirkner, President of the European Mobile Payment Systems Association (EMPSA) advocated the implementation of an innovative "roaming" solution between successful payment schemes in Europe, through which each country would use its solution (i.e. IRIS) and then existing solutions would be interconnected. He favored that approach because as he said the involved entities of each country know better its particularities, the content, and the operation of the domestic field of payments. It should be noted that DIAS SA has been a member of EMPSA since the beginning of the year.
Whιch factors contributed to the rise of BLIK and BIZUM in the European payments market
The clear vision and strategy, the common marketing messages that it "communicates" to the 22 banks, which it cooperates with, the flexibility, the fact that it was addressed to an audience that appreciates easy, fast, and secure payments, but also the constant support it had from the CEOs of the shareholder banks from day one, were the factors that led to the success of BLIK, the Polish A2A instant payment scheme, according to its CEO, Mr. Dariusz Mazurkiewicz.
"It is also important to adopt a friendlier pricing policy, which will be competitive with the card schemes. When we launched our operation in 2015, there were about 1 million m-banking users, while today this number is 23 million users. Moreover, 59% of all m-banking transactions and 67% of e-commerce purchases in Poland are made through BLIK, via the mobile banking apps of partner banks. At least 75% of our revenue comes from using BLIK in e-commerce since the P2P service is free. This revenue stream will help us expand in other European markets, such as those of Romania and Slovakia for starters", said Mr. Mazurkiewicz.
The fact that the financial institutions of Spain understood in time the potential of technology companies as factors that could provide payment alternatives to cards, resulting to their cooperation with them, as well as the significant benefits of easy and secure transactions , were key to the successful presence of instant payment scheme BIZUM in the Spanish market since October 2016, with its percentage of use in e-commerce this year expected to reach 25%, and the number of its users in 2023 set for 25 million, as Mr. Fernando Rodriguez Ferrer, Head of Business Development of BIZUM, stressed.
Instant Payments grew by 63% in 2022 internationally, on an annual basis. 
Mr Panagiotis Kriaris, Commercial Director and Head of Unzer's Business Development sector, pointed out that alternative payments (e.g. P2P, Buy Now Pay Later - BNPL, Digital Wallets, etc.) are dynamically increasing in use, with cash and credit card payments declining. As he noted, real-time payments (Instant Payments) recorded a growth of 63% during 2022 worldwide, with India, China, and Brazil leading and Europe still having considerable ground to cover.
For more information about DIAS' services please watch the following video: https://www.youtube.com/watch?v=RxVwdWC1GUo